By Judith Stone. Published in the Fall 2012 Edition of the Creede Magazine. Purchase Magazine Issues Here
Imagine yourself floating in a drift boat on the Rio Grande River. It is an autumn day. You cast your well-placed fly into a shaded hole near the riverbank, under a canopy of gorgeous cottonwoods reflected like a mirror on the water and in various shades of deep orange to gold. Downriver, a doe cautiously moves out of a patch of lemon yellow willows to take a drink. Underbrush is transforming with a final burst of brilliance before going dormant for winter, under a deep turquoise-blue sky only seen during this time of year. A Brooke Trout takes the bait and you set your hook! After catching the first fish of the day, you spy the shadow of a red-tailed hawk overhead that would love an opportunity to take your trout away. A bear, elk or moose might meander along the river's edge while you fish the headwaters of the mighty Rio Grande. With a backdrop of the extraordinary San Juan Mountains, you understand the only thing important this lazy fall day is to cast. Like trees turning gold around you, Rio Grande Gold Medal Waters gift fishermen with their most memorable fishing trips during autumn.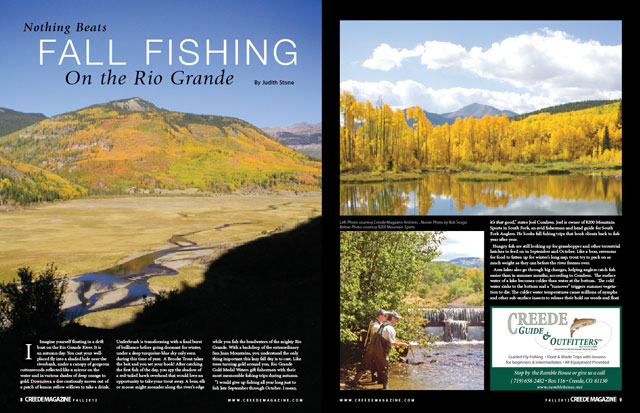 "I would give up fishing all year long just to fish late September through October. I mean, it's that good," states Joel Condren. Joel is owner of 8200 Mountain Sports in South Fork, an avid fisherman and head guide for South Fork Anglers. He books fall fishing trips that hook clients back to fish year after year.
Hungry fish are still looking up for grasshopper and other terrestrial hatches to feed on in September and October. Like a bear, ravenous for food to fatten up for winter's long nap, trout try to pack on as much weight as they can before the river freezes over.
Area lakes also go through big changes, helping anglers catch fish easier than in summer months, according to Condren. The surface water of a lake becomes colder than water at the bottom. The cold water sinks to the bottom and a "turnover" triggers summer vegetation to die. The colder water temperatures cause millions of nymphs and other sub-surface insects to release their hold on weeds and float or swim throughout the lake. Trout feast with reckless abandon during this annual fall feeding frenzy.
Kevin Leggitt, owner of Rio Grande Angler & Fly Shop in Creede, avid angler and fishing guide, says September and October are favorite months to fish because fish are more active with the onset of cooler water temperatures. Summer's warm water temperatures lower dissolved oxygen in water and fish become dormant in order to retain their energy, Leggitt explains. Cooler water temperatures during fall allow brown and brook trout to stay active throughout the day.
When the summer season rush dies down on the Rio Grande it also provides time for guides to relax and go fishing, something Leggit doesn't mind at all. "It's about going out and fishing, not about the amount you catch, only the experience."
Creede and South Fork's high temperatures are in an average mid-sixty range during September. The Rio Grande river does not warm up during daytime like it would in July, when strong afternoon sun heats the water. Autumn's cooler temperatures also give fisherman, whether wading or on a drift boat, a pleasant fishing experience they may not have in summer months, especially during monsoons.
Clint Kirk, fly fishing guide and instructor from Creede's Ramble House, confirms fall is his favorite time to fish. "The reason guides take anglers out in the early morning or evening during summer," Kirk says, "is river water temperatures are at their coolest. During fall fishing season water temperatures stay cool; the fish are active and bite all day long. It is a perfect scenario for a fantastic fishing day. Two thousand twelve's low water levels concentrate fish, making them more accessible to anglers. And of course, you can't go wrong with the scenery."
Fishing guide trips are increasing during autumn as folks discover the magic of fall fishing on the Rio Grande. An angler does not have to search for a secret fishing spot of solitude. With miles and miles of river and spectacular scenery in every direction, the most important reason for anglers to fish in the fall is to just get out and fish.