Squaw Creek Trail #814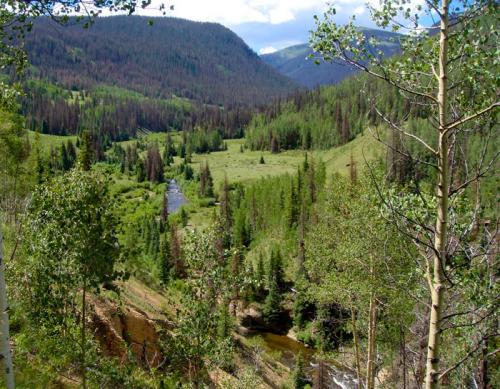 Stream/Creek, High Mountain

Location:

Squaw Creek Trail #814

Elevation:

9300-12000

Commonly Caught Species:

Brook Trout

Restrictions:

Must have Colorado Fishing License to fish.

Seasonal Accessibility:

Late Spring/Summer/Fall

Access:

HorseBack, Hike, Car (4x4 not required)

Driving Directions:

Directions from Creede: Travel southwest on Colorado Highway 149 for 20.1 miles, to the intersection of Colorado Highway 149 and Forest Road #520 (Rio Grande Reservoir Road), then 10 miles west on Road #520 to the 30 mile Campground. The trailhead and trail user parking is here.

Hiking Directions:

The Squaw Creek trail is 9.7 miles long. It begins at 30 Mile Campground and ends at CDNST # 813. The trail primarily parallels Squaw Creek from Thirty Mile Campground to the Continental Divide. The trail begins with a short climb away from Thirty Mile Campground, drops quickly down to the Squaw Creek bridge and within a mile begins to wander through grassy meadows adjacent to the creek bottom. The trail continues to make a long, gradual climb until just before reaching trail #813 (CDNST). The upper 4 miles of the trail wanders around and through numerous boggy areas. Wet feet can only be prevented with care. The trail is well defined and easy to follow.
Good fishing is possible along Squaw Creek and nice camping areas are easy to find along the trail. Elk may be sighted in the evening or early morning in the open, wet meadows below Squaw Pass.