Rio Grande - Float: Wagon Wheel Gap to Palisade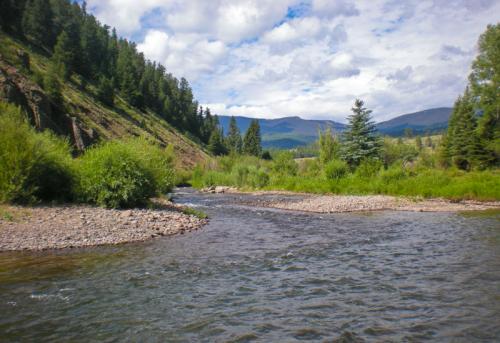 River

Location:

Rio Grande - Float: Wagon Wheel Gap to Palisade

Elevation:

8400

Commonly Caught Species:

Rainbow Trout, Brown Trout

Suggested Bait:

Flies, Lures

Restrictions:

Must have Colorado Fishing License to fish. Fly/Lure Only; 2 Brown trout limit, minimum 12 inches; All rainbow trout must be released

Fishing Method:

Flyfishing, Float Fishing, Wading

Seasonal Accessibility:

Late Spring/Summer/Fall

Access:

Car (4x4 not required)

Driving Directions:

Directions to put-in: drive thirteen miles out of South Fork heading west on Hwy 149 toward Creede. After passing Cottonwood Cove and 4UR Ranch, look for a large parking lot and public river access across from the steep cliffs on south side of the highway. Directions to take-out: drive five miles past Wagon Wheel Gap to Palisade Campground located on the south side of Hwy 149 east toward South Fork. That would be twelve miles from the town of Creede heading east, and 8 miles from South Fork heading west.

Non-motorized Boats Allowed

Forest Service Info::

https://www.fs.usda.gov/recarea/riogrande/recreation/fishing/recarea/?recid=29244&actid=43
This Interpretive facility is situated as a rest stop on the Silver Thread Scenic Byway. It offers ample graveled parking lot, and interpretive signs explaining the Gap Geology and how it was named. It is not handicap accessible. There is also a small gravel boat launching ramp for rafts and small fishing boats to use on the river.
Float trip: Wagon Wheel Gap to Palisade Campground
This trip is my personal favorite. The float starts out at Wagon Wheel Gap with towering cliffs rising 11,000 feet into the air. So named because Ute Indians would lie in wait for passing wagon trains to raid and then hang the wagon wheels from the cliffs in warning to other pale faces (a story my dad told me growing up). The train bridge you can see down river from the put-in is a tricky booger to navigate and I would suggest walking down and checking to see which passages are open through the bridge before you run it. Personally, I always stay river-middle because those are the bigger gaps. Also, the further left you go in the river the stronger the current, and the bridge sits at a bad angle in the current. Many folks portage around this bridge and, although it is not undoable, it is called "death bridge" by the locals for a reason…
The river again turns private as you travel through 4UR Guest Ranch and Cottonwood Cove. Goose Creek, which runs through 4UR, spills into the Rio Grande between the two ranches. The next section of river is the rock garden, a bony technical stretch to fish because of rapids and the rower stressing on how to ping pong down through it. (hint: stay river right!) I always fish the rock garden, and have had success with bigger drys. It has good presentation in a deep pool off the rapids and the fish know they have to react quickly or the snack is gone -- gotta love that fast moving water! Next you float past Blue Creek Lodge. Look for stairs up the bank to the highway and lodge, river left, after the rock garden and stop to have lunch. Its mostly public water from here on to Palisade Campground and Blue Creek dumps into the river right at the lodge. This stretch offers a much more wind- and sun-protected float versus up above and is more kid- and dog-friendly because you can stop along the banks if you need to. We fished this stretch last year around my birthday (June 16th) and the stonefly hatch was amazing! This is a two or three hour float and can be combined with the "Airport Road to Wagon Wheel Gap" float to make an all-day trip. As you will already know from running your shuttle, Palisade Campground sits on the north side of the river and has a short, steep boat ramp and parking lot.