Rio Grande - Float: Palisade to Coller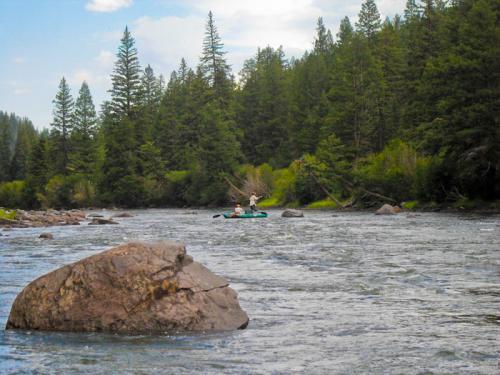 River

Location:

Rio Grande - Float: Palisade to Coller

Elevation:

8400

Commonly Caught Species:

Rainbow Trout, Brown Trout

Suggested Bait:

Flies, Lures

Restrictions:

Must have Colorado Fishing License to fish. Fly/Lure Only; 2 Brown trout limit, minimum 12 inches; All rainbow trout must be released

Fishing Method:

Flyfishing, Float Fishing, Wading

Seasonal Accessibility:

Late Spring/Summer/Fall

Access:

Car (4x4 not required)

Driving Directions:

Directions to put-in: Palisade Campground is located on the south side of Hwy 149 twelve miles from the town of Creede heading east, and 8 miles from South Fork heading west. Directions to take-out: four miles further east on Hwy 149 from Palisade Campground will find you at Coller State Wildlife Area. A right hand turn off the road you will see a green metal bridge and a parking lot. Hang left before the bridge and there is a small driveway down through the cottonwoods to the river.

Non-motorized Boats Allowed
Palisade Campground to Coller is a shorter float with lots of potential (especially in the evening, it seems) to catch a fish in the high summer. We sometimes do this float in the long afternoon when work lets out and push getting off 'til right at dusk. Towering pine trees dominate this stretch and the river widens considerably. A nice stop to stretch your legs and do some wade fishing is at the silver train bridge two miles down from Palisade. There are two nice sandbars on either side of the river before the bridge and you can hike around the area – it's public.
Next comes a few sets of rapids, and a concrete bridge known as Upper Coller. Some people do take-out here, known as the Telephone Pole Take-Out. It is narrow, steep and there is a large piece of metal in the river that could cause you problems in low water. I do feel the need to mention it, however, so folks know its there. It's a shame to take-out early here though, because around the bend from concrete bridge, the river has a very deep bank and I've seen many a fish caught in this stretch deep nymphing.
This float can be combined with the "Wagon Wheel Gap to Palisade Campground" float for a long day-trip and stays floatable long after the "Airport Road to Wagon Wheel Gap" float has become too low. The take-out is an easy one with a long shallow rocky beach on the north side of the river right after you cross under the green metal bridge at Coller. The take-out at Coller is less than a mile from the Mineral County line.